U Fence Post - U channel posts - U Staples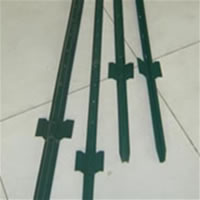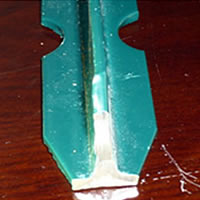 Dongxin supplies U type fence posts and u staples for supporting of various wire mesh fences, including chain link fence, field fence and other metal fences. Made of low carbon steel plate with a thickness of 2mm - 6mm.

Popular finish for U type fence posts is Epoxy coated green color, black bitumen coated, galvanized, PVC coated, baked enamel painted.
Products Details
U Post for Supporting and Fixing Wire Mesh Fences
U post is a multipurpose fence picket with a U shape cross section punched with holes for quick and firm installation.
Two types of u fence posts:
U posts with spades
U posts without spade.
Choosing u posts for fencing system:
U posts with spades are used for increased fences stability by increasing the contact area to the ground.
U posts without spade are used where a easier hammering into the ground is needed in installation.
Light duty U shape post ideal for light type wire fencing securing is supplied in following length:
3', 4', 5', 6'

Heavy duty U posts for heavy type mesh fencing, is supplied in following length:
5', 6', 7', 8', 9', 10'
Features
1) U post installation is easy
2) High strength and toughness, are suitable for all kinds of bad conditions, and not easy distorted
3) The direct-bury u channel sign posts offer a strong, cost effective solution for sign support requirements
4) Free from weakness caused by rusting, weathering and chemical actions
5) U sign post can be used in highway system by saving time, money and lives.

U Fence Staple, for fastening to wooden posts
The heavy-duty fence staples are designed to attach welded or woven fence mesh to wooden posts. Also commonly used to attach insulation and to fasten suspended ceilings to wood framing using wire. Formed from heavy 9-gauge wire, these fence staples provide strong holding power. The galvanized coating has superior rust and corrosion resistant properties.
U Channel Sign Post
Tensile strength 400-550MPA
Specification 1.12lbs/ft, 2.00lbs/ft, 2.50lbs/ft , 3.00lbs/ft and more
Surface treatment galvanized,Powder coating,green painted
Holes 3/8" or 7/16"diameter holes on 1"or 2" centers, punched full-length or parts.
Frame Size 90x40mm etc

U Fence Post

| | | | | | | | | | |
| --- | --- | --- | --- | --- | --- | --- | --- | --- | --- |
| Length(cm) | 45 | 60 | 90 | 135 | 150 | 165 | 180 | 210 | 240 |
| Holes(Australia) | 2 | 3 | 5 | 11 | 14 | 14 | 14 | 7 | 7 |
| Holes(New Zealand) | | | | 7 | 7 | 7 | 8 | | |
Measurement
Star Picket (Australia & New Zealand) Length
0.45M
0.60M
0.90M
1.35M
1.50M
1.65M
SPEC
PCS/MT
PCS/MT
PCS/MT
PCS/MT
PCS/MT
PCS/MT
2.04kg/M
1089
816
544
363
326
297
1.90kg/M
1169
877
584
389
350
319
1.86kg/M
1194
896
597
398
358
325
1.58kg/M
1406
1054
703
468
422
383
Measurement
1.80M
2.10M
2.40M
2.70M
3.00M
PCS/MT
PCS/MT
PCS/MT
PCS/MT
PCS/MT
2.04kg/M
272
233
204
181
163
1.90kg/M
292
250
219
195
175
1.86kg/M
298
256
224
199
179
1.58kg/M
351
301
263
234
211
U Fence post has the following benefits:
- Durable, epoxy-resin coated in green color
- 2 post can be bolted together for extra support
- Special channel construction for maximum strength
- individually labeled