Hinged Joint Field Fence Heavily Galvanised
Hinge joint field fence has four wrap knots or joints formed with two vertical stay wires wrap together that give under pressure, then spring back into shape. This hinged knot provides a continuing protection, maximum strength and flexibility of the entire fence fabrics. Hinge joint fence is popularly use in farms, pastures of USA, Canada, South Africa, Australia as field fencing materials. Hinge joint fence is also called Hinge Knot Fence or Hinge Lock Fence.
Application: Hinge joint iron fence heavily galv. is used for grassland, pastures,protection of ecological projects, protecting grassland, forestry, highway, and other sites.
Products Details
Hinge Knot Field Fence
Fence Wire High Tensile Steel Galvanized - 12.5 ga.
In 330' Rolls
Available in heights ranging fom 32" to 78"
Hinge Lock Construction as illustrated:

84" Hinge Joint Fence Wire to South Africa


Fully galvanised
Joints to be hinged
Height 2.13m
Fence height: 84 feet
Vertical stay spacing 150mm (6")
Horizontal line wires 22
Wire Specifications:
Horizontal line wires 2,00mm diameter high tensile steel wire at 415kg breaking strain
Vertical stay wires 2,00mm diameter, mild steel at 220kg breaking strain
Woven Galvanized Field Wire with Hinged Knots at Joints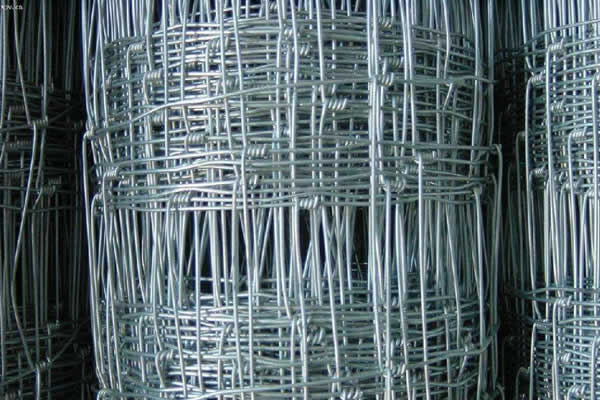 Fence rolls: 32 inch x 330 feet
Graduated with six horizontal wires spaced 5"+ 5.5"+ 6"+ 7"+ 8".
Top and bottom wire 12ga (2.03mm), filler wires 14ga. (1.8mm)
All vertical wires spacing 6"
Structure: Hinged knots joints.
Exported to USA
Hinged Knot Fence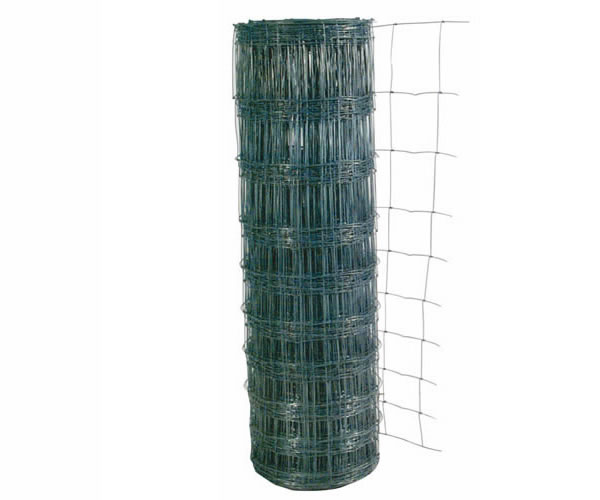 Horizontal wires: 10
Height in inch: 46-inches
Fence length in feet: 330 feet
Mesh hole space: 12 inch
Filling wire: 14.5gauge
Top and bottom wire: 11 gauge
Zinc coating thickness 9g/m2: 60
Ibs / roll: 92-Ibs
47" Field Fence Hinged Joint Knot
47 inch Fence in 330 feet roll length
Horizontal Wires 10
Filler Wire 14 gauge
Top/Bottom Wire 12.5 gauge
Stay wires spacing: 6 inch
Galvanizing: Class III Galvanized (245g/m2)
For USA

4' Height Farm and Ranch Fence for Goats
Rolls of net fence, in 330 ft. rolls, 4 feet tall
Sheep fencing for USA
Farm and ranch fence to keep sheep / goats
Heavy Bull Wire Field Fence
Sizes Deliver to USA:
Heavy Bull Wire/Field Fence/Hinged Knot
1047-6 Hinged Knot Field Fence
Low Carbon 9 x 11 gauge Class-III
47" height x 330' roll
10 horizontal wires x 6" stay spacing
1047-6 Hinged Knot Field Fence
Low Carbon 9 x 9 gauge Class-III
47" height x 330' roll
10 horizontal wires x 6" stay spacing
Finish: Hot dipped galvanized
Heavily Galvanised Field Fence
Hinged joint wire fence deliver to Mauritius
Heavily Galvanised Field Fence type 13/188/15 ( 13 Horizontal Lines, 1880 mm height and 150 mm ).
Edge Wires : Bottom & Top 3 mm
Line Wires : 2.25 mm
Stay wires : 2.5 mm
HDG: zinc coating quantity: 60-100g per square meter, max 230-240g per square coating


Hinge Knots Forming: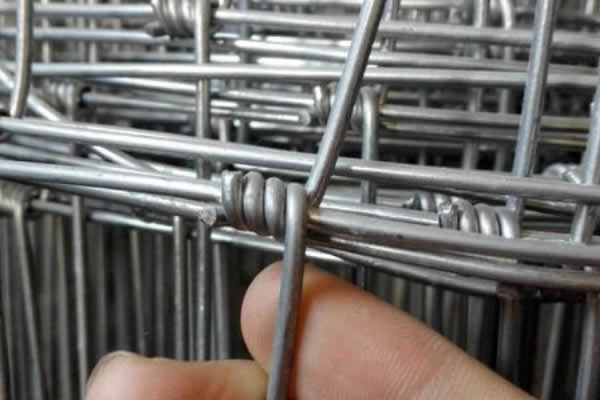 Hinge joint fencing is the best choice of ranchers for protecting the jumping animals like deers, horses and cows, sheep and goats. The hinge-knot system ensures proper stretching and allows for easier installation over hilly or rough terrain. Uses of our hinge-joint knots allow the fence to give under pressure and spring back into shape. The heavy zinc coating of the wire offers the finished fencing good rust resisting and corrosion.
Common hinged joint fencing is made from galvanized wire with a wire diameter of 2.5 mm and the top and bottom wire are made with wire diameter of 2.8 mm. Fence height is normally from 0.8m to 2m. A variety of heights, hole mesh, spacing and styles are offered for more choices.
Material: Steel wire with high strength, with zinc coating layer and without.
Features:
Hinge joint fence is simple in structure, easy for maintenance, it has short installation period, less weight, easy for transport and easy ventilation.

Regular specifications of Hinge Joint Fencing:
Wire Spacing Size
Wire Diameter
Fence Width
& length
In MM
In Inch
MM
12.7mm
1/2Inch
1.0mm - 2.0mm
3Feet x 6Feet
4Feet x 8Feet
5Feet x 10Feet
1M X 2M 1.5M X 3M
2M X 4M
Other panel sizes
can also be
made according
to request
25.4mm
1Inch
1.5mm - 3.5mm
31.8mm
1 1/4Inch
2.0mm - 4.0mm
38.1mm
1 1/2Inch
2.0mm - 5.0mm
50.8mm
2Inch
2.0mm - 6.0mm
76.2mm
3Inch
3.0mm - 7.0mm
101.6mm
4Inch
3.0mm - 8.0mm
127mm
5Inch
4.0mm - 9.0mm
152.4mm
6Inch
4.0mm - 10.0mm