Perimeter Fencing
What is perimeter fence?
Perimeter fence is a metal wire mesh structure that circles the perimeter of a certain area to prevent access. The area can be a farm, a ranch or a grassland, an airport, a villa, etc. Perimeter fence is a kind of border fencing and protective fence.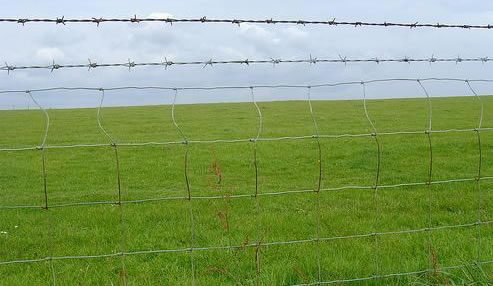 Barbed wire on perimeter fence top to prevent climbing
Land Perimeter Fencing: The fences used as land perimeter fencing, are frequently made out of single vertical metal bars connected at the top and bottom with a horizontal bar. They often have spikes or Barbed wire on the top to prevent climbing. Residential perimeter fences are normally made of metal wire mesh, steel pickets or ornamental fences. Sometimes, the land perimeter fencing also serves as cattle fence or horse fencing. This type of perimeter fence is made of high tensile woven wire fences with hot dipped galvanized fencing wires.
Airport Perimeter Fence is mainly used in the airport as a protective fence. It is mainly composed of three parts: the perimeter fencing panels as the main body, the supporting Y fence post and the razor wire securing tops.

The The fence panel is welded with 4.0/5.0 mm low carbon steel wire , the surface will be electrostatic polyester powder coated or PVC coated after electro-galvanized. 60 mm Y shaped square pipe will be put at 2.5m intervals for the connection of the mesh.Concertina wire will be put at the top of the fence to make the fence more securer.
Panel
Panel
Mesh
Wire Thickness
Surface Treatment
Panel Width
Folds NOS.
Panel Height
Fence Height
Big Panel
50x100mm
55x100mm
4.00mm
4.50mm
5.00mm
Galvanized and
Electrostatic polyester coated or PVC coated
2.50m
3.00m
4
2000mm
2700mm
5
2300mm
3200mm
6
2600mm
3700mm
2
530mm
2700mm
V panel
630mm
3200mm
730mm
3700mm
Y Post
Profile
Wall Thickness
Surface Treatment
Length
Base Plate
Rainhat
60x60mm
2.0mm
2.5mm
Galvanized and
Electrostatic polyester powder coated
2700mm I+
530mm V
Available
On request
Plastic or Metal
3100mm I
+
630mm V
3600mm I
+
730mm V
Top concertina razor wire
Type
Core wire /Blade thickness
Surface Treatment
Length
Outside diameter
Clips
BTO-22
2.5/0.5mm
Hot dipped galvanized
8-10m/roll
500mm
3 lines
600mm
700mm