Perimeter Fencing
We supply perimeter mesh fences in following types: Farm Perimeter Fence, Chain Link Perimeter Fence and Weld Mesh Perimeter Fence.
Perimeter fence is a metal wire mesh enclosure that circles the borders of farms, ranches, pastures, airports, residences, various facilities and sites to prevent access. Perimeter fence works as a kind of border fencing and a protection fence.
Products Details
Farm / Land Perimeter Fencing
Land and farm perimeter fences are frequently made out of flexible knot twisted wire, occasionally with barbed wire on the top to prevent climbing. Sometimes, the land and farm perimeter fence also serves as cattle fence or horse fencing. This type of perimeter fence is made of high tensile woven wire fences with hot dipped galvanized fencing wires.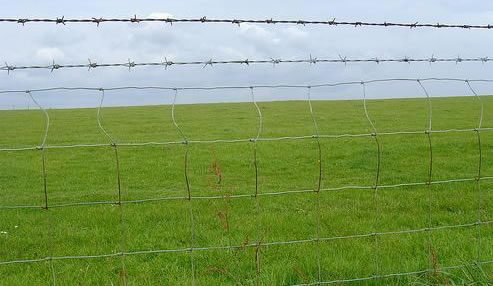 Barbed wire on perimeter fence top to prevent climbing
Perimeter Security Fence - PVC Coated Chain Link Fabric
PVC-coated chain-link fabric galvanized
PVC coated chain link fabric infillled Gate and Assembly
Fence Posts
Tension Wire
Barbed Wire
Barbed Wire Supporting Arms
Padlocks
Wire Ties

Perimeter Mesh Net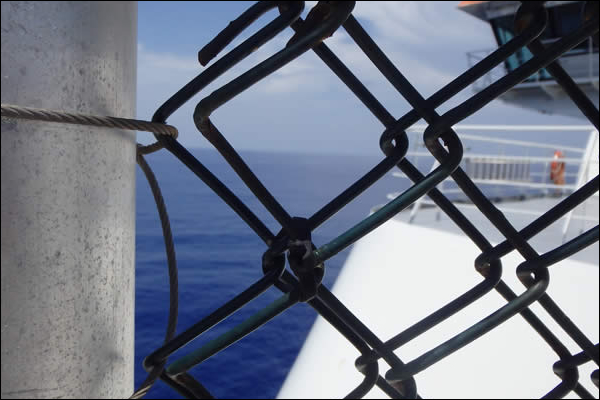 Perimeter fencing, framed, portable panels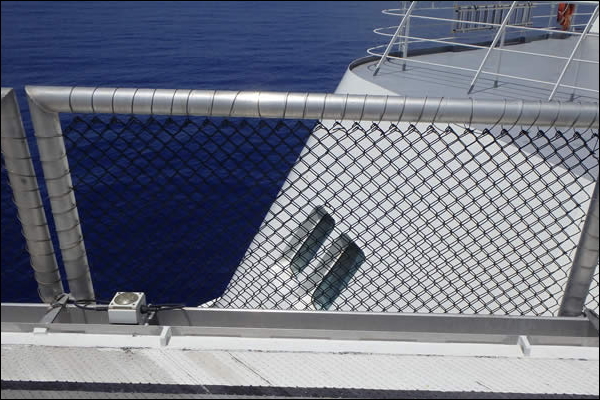 Material: Mild steel PVC coated wire netting
Perimeter net panel, PVC coated mild steel wire, mesh 50x50.
Roll of quality fencing net – mild steel PVC coated
Stainless steel tie wire rolls for perimeter mesh fabric binding: 3mm ( 1/8 inch)
Crimps (minimum x 20) for binding wire with crimping tool for binding wire & crimps.
Camp Perimeter Fences with accessories.
Fence height:ground to top of mesh panels: 2000mm or 2500mm( extra 0.5m buried mesh)
Fencing mesh material: 3.05mm wire dia(0.120"=11gauge)x50.8mm(2")mesh
Foundation post :minimum 700mm below ground
Zinc coating: 160g
Optional 0.5m Y-arm for attaching barbed wire (minimum 3 rows per arm at 250mm spacing) or BTO22 concertina barbed wire(stretched diameter of 820mm) .
Every camp fence must include 2 vehicle swing gates(3000mm width) and 2 pedestrian gates(1500 mm width), also tension system
Post should be not less than 76mm overall diameter and tube wall thickness to be 2.6mm minimum for the line posts and 3.6mm minimum for end and corner post.
Steel cable that meets a K4 for the vehicle entry point that is aligned with a fence line,on either side of the entry,that also has the same level of protection. A K-4 rated fence solution would be able to stop a 15000 lb vehicle traveling at 30 mph.
Installation tools required for fence installation

High Security Perimeter Fence - Weld mesh type
2515mm Wide x 3300mm  Weldmesh with 40mm x 5mm Flat Clamp Bar, 11No. M10x45 Cup SQ Bolt, Nut Washer and Formed Clamp Washer
11.3mm Diameter x 4100mm LG Wire Post
50 x 50 x 5mm Angle x 2376mm Lintel
50 x 50 x 5mm Angle x 600mm Rocker Arm on Flexible Mounting, Fixed to Post with Bracket
40mm x 30mm x 400mm LG DIAG. Bars x 6Nos
40mm x 3mm x 2189mm LG HOR. BRACES/Post
Barbed Tape Coil/Strands fixed to Rocker Arm, top of mesh, and strand of barbed tape fixed bwtween posts
Double security gates: steel gate: 50x50x5 RHS fully welded framework
30x5mm flat clamp frame bolted to welded clamp frame
900 diameter band and rocker bar for fixing
Perimeter Fence of Welded Mesh - For residential fence, airport fence
Residential perimeter fences are normally made of metal wire mesh, steel pickets or ornamental fences.
Airport Perimeter Fence is mainly used in the airport as a protective fence. It is mainly composed of three parts: the perimeter fencing panels as the main body, the supporting Y fence post and the razor wire securing tops.
Airport safety mesh fence panel is welded with 4.0/5.0 mm low carbon steel wire, the surface will be electrostatic polyester powder coated or PVC coated after electro-galvanized. 60 mm Y shaped square pipe will be put at 2.5m intervals for the connection of the mesh.Concertina wire will be put at the top of the fence to make the fence more securer.
Mesh Panel
Panel
Mesh
Wire Thickness
Surface Treatment
Panel Width
Folds NOS.
Panel Height
Fence Height
Big Panel
50x100mm
55x100mm
4.00mm
4.50mm
5.00mm
Galvanized and
Electrostatic polyester coated or PVC coated
2.50m
3.00m
4
2000mm
2700mm
5
2300mm
3200mm
6
2600mm
3700mm
2
530mm
2700mm
V panel
630mm
3200mm
730mm
3700mm
Y Post
Profile
Wall Thickness
Surface Treatment
Length
Base Plate
Rainhat
60x60mm
2.0mm
2.5mm
Galvanized and
Electrostatic polyester powder coated
2700mm I+
530mm V
Available
On request
Plastic or Metal
3100mm I
+
630mm V
3600mm I
+
730mm V
Top concertina razor wire
Type
Core wire /Blade thickness
Surface Treatment
Length
Outside diameter
Clips
BTO-22
2.5/0.5mm
Hot dipped galvanized
8-10m/roll
500mm
3 lines
600mm
700mm