Fixed Knot Field Fence, Heavy Galvanized or Plastic Coated
Fixed knot fence is formed with continuous vertical and horizontal wires, wrapped in a fixed knot with a third wire (See the structure illustration below). It provides the strength and rigidity as well as the safety necessary for the animal breeding.
Fixed knot fence is a style in contrast with the familiar hinge joint knot while the former has stronger wire fabrics and can be installed quickly with fewer fence posts. This means that fixed knots brings reduced cost and less maintenance compared with other wire structures. Fixed knot fence are mainly used in the farm and pastures for animal fencing including deer fences and horse fences. In regard to the surface treatment, fixed knot fence is available in heavy coated galvanized for a long service life. This type of field fence is also available with a green plastic coating finish to harmonize with the surroundings.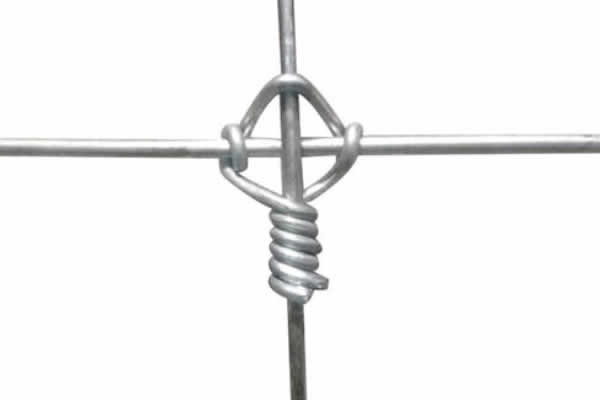 Fixed Knots Forming Structure for Field Fences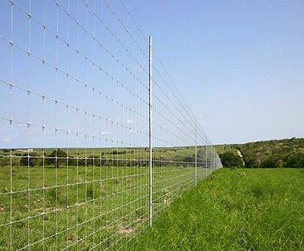 Fixed Knot Field Fence Fabrics Used in Grasslands
Features of Fixed Knot Fence:
Stronger;
Less cost;
Long life;
Faster installation.
Materials: Mild steel carbon wire, zinc coated.
Surrounding Type Fixed Knot Fences for Farm and Pastures:
Surrounding type metal field fences is made by hot-dipped galvanized wire woven together, the tensile strength of crimped wire can be 1000 Newton and the weft wire tensile strength can exceed 500 Newton.
This kind of field fence enjoys innovative design, firm structure, flat surface, uniform opening, good flexibility and long service life. Even the cut parts will not loosen or deformed. Its excellent corrosion resistance and anti-oxidizing property exceed common steel wire mesh. Our wire fence is forever firm once installed, the users need not worry about the breaking of welding spots by using of welding wire mesh.