Round Corral Panels for Horses and Cattles
We supply galvanized steel corral panels with three types of pipe / tube shapes: round corral panels, square tube and oval tube panels. Corral panels and gates are large round pens made from high-tensile steel tubes hot-dipped galvanized, popularly used for horses training, also used as pens for cattles and other livestocks.
Hot Dipped Gavlanized Round Pen Panels features excellent corrosion resistance, rust protection and portable constructon.
Products Details
Portable Livestock Corral Panels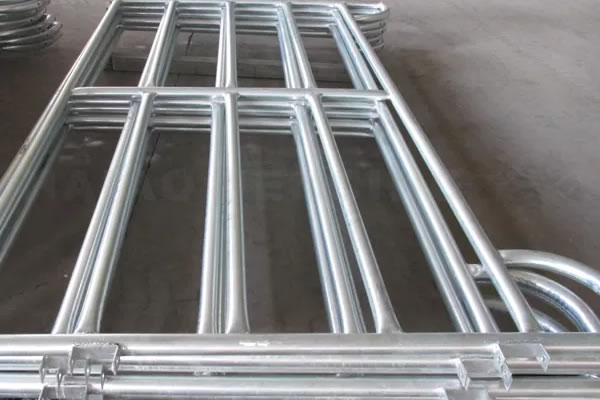 Area corral panels, various height and railing structures, 1.2 m with three rails, 1.6 m with five rails, 1.8 m with six rails, for specific farm fencing uses
Horse Corral Panels and Fencing Gates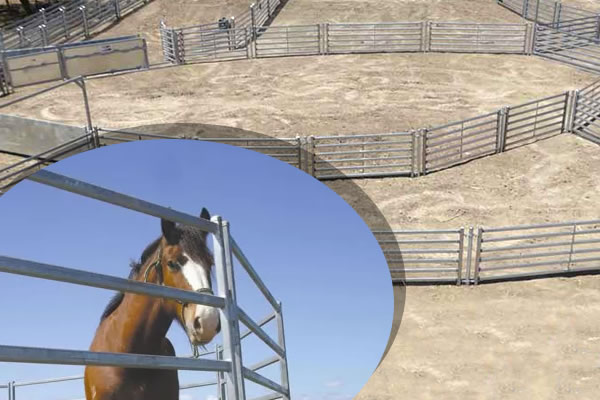 Heavy duty corral panels made with 16 Gauge steel tubes heavily galvanised, for horses training, keeping and securing, 1.8m high with 6 bars/rails
Corral Fencing Panels and Gates
Material: High quality Q195, Q235 tubular steel
Frame finish: Hot dipped zinc coating or powder coated
Pipe thickness: 1.6 mm or customized
Round pipe: 25 mm, 32 mm, 42 mm, other sizes.
Square pipe: 40 mm × 40 mm, 50 mm × 50 mm, other sizes.
Oval pipe: 30 mm × 60 mm, 40 mm × 80 mm, 40 mm × 120 mm
Height: up to 2.7 m (1.2 m with three rails, 1.6 m with five rails, 1.8 m with six rails)
Width: 2 m to 3.5 m or customized size
Corral Panels Round Steel Tube styles, for Horses and Cattles
Panel Material
Tublar steel, pre hot dipped galvanized
Finish
Hot dip zinc coating
Panel Height x Length
1800mm x 2100mm
Vertical pipe
32mm O.D x1.6mm thickness
42mm O.D  x 1.6 mm thickness
Horizontal rails
32mm O.D x1.6mm thickness 
42mm O.D  X 1.6mm thck
(6 round rails construction)
Welding
Fully welded post brackets
Welds
360 degree fully welded, zinc brushing at each welding spot;
360 degree fully welded, each weld protected with epoxy paint
Corral Panels Oval tube style, for Horses and Cattles
Panel Material
Tublar steel, pre hot dipped galvanized
Finish
Hot dip zinc coating
Panel Height x Length
1800mm x 2100mm
Vertical pipe
50 x 50mm x 1.6mm thickness
40 x 40mm x 1.6mm thickness
Horizontal rails
40 x 80mm x 1.6mm thickness
30 x 60mm x 1.6mm thickness
40x120mm oval rail x 1.6mm thickness (6 oval rails constructon)
Welding
Fully welded post brackets
Welds
360 degree fully welded, zinc brushing at each welding spot;
360 degree fully welded, each weld protected with epoxy paint
Corral Panels Square tube style, for Cattle and Horses and Other Livestocks
Panel Material
Tublar steel, pre hot dipped galvanized
Finish
Hot dip zinc coating
Panel Height x Length
1.8m x 2.1m for horses, cattles, 1.6x2.1m for goats, sheeps, and other sizes
Vertical pipe
50 x 50mm RHS x 1.6mm thickness
40 x 40mm RHS x 1.6mm thickness
Horizontal rails
50 x 50mm RHS x 1.6mm thickness
40 x 40mm RHS x 1.6mm thickness
(6 square rails construction)
Welding
Fully welded post brackets
Welds
360 degree fully welded, zinc brushing at each welding spot;
360 degree fully welded, each weld protected with epoxy paint
Choosing Corral Panels
1.8x2.1m panel size is used for cattle and horse, 6 rails/ bars
1.6x2.1m panel size is used for sheep, with 5 rails/ bars
Pipe Type: Square pipe
40x40mm, 50x50mm
Round pipe 32mm
Oval pipe 30x60mm, 40x80mm
Pipe Thickness 1.5mm, 1.6mm
Hot Dipped Galvanized