DongXin Field Fence Factory
Welcome to our new version of website! We believe it will provide a better navigation of our wire mesh fencing products.
We export field fencing products in a variety of styles and mesh openings.

Field fence fabrics can be welded, woven, or chain link wire. Woven wire field fences are available in fixed knots, hinged knots, square deal knots and graduated mesh wire fabrics. Also, we supply fence posts and other accessories for fencing system uses.
Common uses are for barriers in ranch construction, grazing and feeding of animals in agriculture and farm.
Mainly:
Grassland protection;
Ranch grazing;
Protection of the natural environment;
Agriculture;
Animal husbandry (cattle, horses, deer, sheep & goats);
Border fencing;
Perimeter fencing.

Welcome to contact us for more and detailed information about our fencing products at sale@fieldfencing.net. We assure you of our prompt respones always.


Hinged Joint Field Fences
Common hinged joint fencing is made from galvanized wire with a wire diameter of 2.5 mm and the top and bottom wire are made with wire diameter of 2.8 mm. Fence height is normally from 0.8m to 2m. A variety of heights, hole mesh, spacing and styles are offered for more choices.
Hinge joint fencing is the best choice of ranchers for protecting the jumping animals like deers, horses and cows, sheep and goats. Learn more.
Field Fencing with Fixed Knots Structure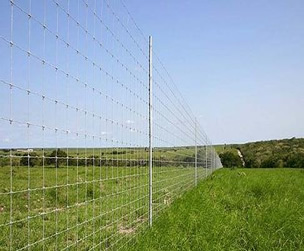 Fixed knot fence is a kind of woven field fencing with stronger wire fabrics and can be installed quickly with fewer fence posts. This means that fixed knots brings reduced cost and less maintenance compared with other wire structures. Fixed knot fence are mainly used in the farm and pastures for animal fencing including deer fences and horse fences. In regard to the surface treatment, fixed knot fence is available in heavy coated galvanized for a long service life. This type of field fence is also available with a green plastic coating finish to harmonize with the surroundings.

Learn more.
Square Deal Knots Field Fences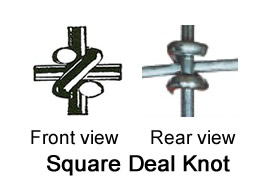 Square Deal Field Fence comes in multiple fence heights, styles, and wire gauges. Each style is designed to meet your particular needs. Its s-shaped knots form a tough & sturdy structure that stands up to impact from large animals without buckling or sagging. It is a type of anti climbing fence, the S knot is made with a separate piece of wire to attach the line wire to the solid stay wire. The knot is very smooth when you touch and is strong enough to feeding animals like sheep, goat, cattle, etc.
Field Fences with Graduate Mesh Opening

The type of woven wire field fence is made of galvanized steel wire in graduated mesh openings in a wide selection of heights and styles. The graduated spacing starts with small openings at the bottom which helps prevent entry or getting out of the small animals.
The wire fence can be used with 1 or 2 strands of barbed wire added to the top of the fence for extra security for big animals like horses.
Woven Wire Field Fence
Field Fence (woven wire) is manufactured in a wide selection of heights and styles featuring a graduated spacing that starts with small openings at the bottom which helps prevent entry from small animals. Fence height ranges from 0.9 to 2.5m, fence weight ranges from 30 to 150kg. Learn more.


High Tensile Field Fence
Manufactured with high tensile steel wire, this kind of field fence is strong for keeping and breeding animals. High tensile field fence is popularly used as deer fence, cattle fence, horse fencing, etc.
Common Specifications: Wire Gauge Top and Bottom 3.00mm, Intermediates 2.5mm
Cattle Fence
Cattle Fence is one type of high tensile Field Fence woven with hot dipped galvanized wire in hinged knot styles. Woven wire cattle fence makes the best choice as borders in the fields and grassland for breeding deer, cattle, horse, sheep and other animals.

Unlike the welded wire mesh fences with the welding spots getting easily broken, our field fences for cattle keeping are firm forever once installed and make the best materials for protecting grassland, forestry, highway and environments.
Sheep & Goat Fence
Sheep & Goat Fence is a kind of field fence woven in three major styles: ring-lock, hinge joint or fixed knots. All these fences have graduate mesh openings with smaller spacing in the bottom. Sheep & Goat Fence is simple in structure, easy for maintenance, it has short installation period and less weight, easy for transport. And it is suitable for borders in fields and grassland for keeping of sheep, goat, deer, horse, pig and other animals.

Sheep and goat fencing has smaller Holes at the bottom and bigger holes higher up, so this fence can stop lambs getting through and big sheep from getting their heads trapped.
Fence accessories needed for installation such as Staples, Post anchors, And Galvanized Posts can also supplied upon request.
Horse Fence
Our Horse Fence System is designed to minimize injuries and secure horses safely. There are no sharp points or hard edges; no boards to break or splinter.
Horse Fence absorbs force and springs back. The standard spacing for fence posts is 50 feet. This means fewer posts, less work, less cost and less maintenance.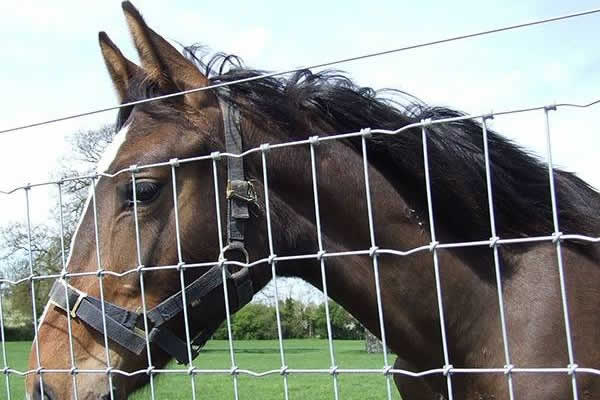 Horse Fences with Knots
Deer Fence
Our main products for deer controlling include Polypropylene deer fence and Fixed-knot deer fence.
Poly deer fence is light type fencing featuring long-time durability, easy installation as well as good flexibility.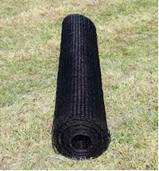 Poly Deer Fence in Rolls

Common sizes for poly deer fence:
Mesh size: 1.75 inch ×2 inch,
Roll size: 7.5 ft.×100 ft., 7.5 ft.×300 ft., 7.5 ft.×330 ft., 6 ft.×100 ft., 6×330 ft..
Color: black.
Learn more.
Also Supply:
The farm fencing can stand alone as a permanent perimeter fence, or moved around for rotational grazing, it can be used as a fence.
Galvanized welded wire mesh can be used to withstand the harshness of the climate. This kind of wire fencing is strong enough for farm uses.
Chain link field fences are made of wire gauges from 14 gauge (light type fence), 12 gauge (heavy type fence) to 10 gauge.